With your account, you have access to the highest level of integrations that we offer. This means that you can take full advantage of you forms by transferring data into your SalesForce, Marketo, Vertical Integration and WebHooks further using it for your customer interaction process. We've decided to put together a short guide on how to integrate with these apps so you can do it without any problems.
Before we start, there is are 3 general steps for all integrations:
1. Get the API key from your account on the chosen platform and add it in the integration box
2. Customize how the information is stored in your account
3. Watch data flow from your forms directly into your other services.
The only difference between all of them is where you find the API key in that service's dashboard, and the options you can choose for the integration.
So without any further ado, let's see the first one.
How do I Integrate With: SalesForce
First thing we need to integrate is to have your SalesForce account's API key. YOu need to login into your SalesForce account and get it, like this:

Now you'll get an email with the Security Key (which is also the API, the one we need for the integration). With that in your hands, go ahead and complete the required information as shown below.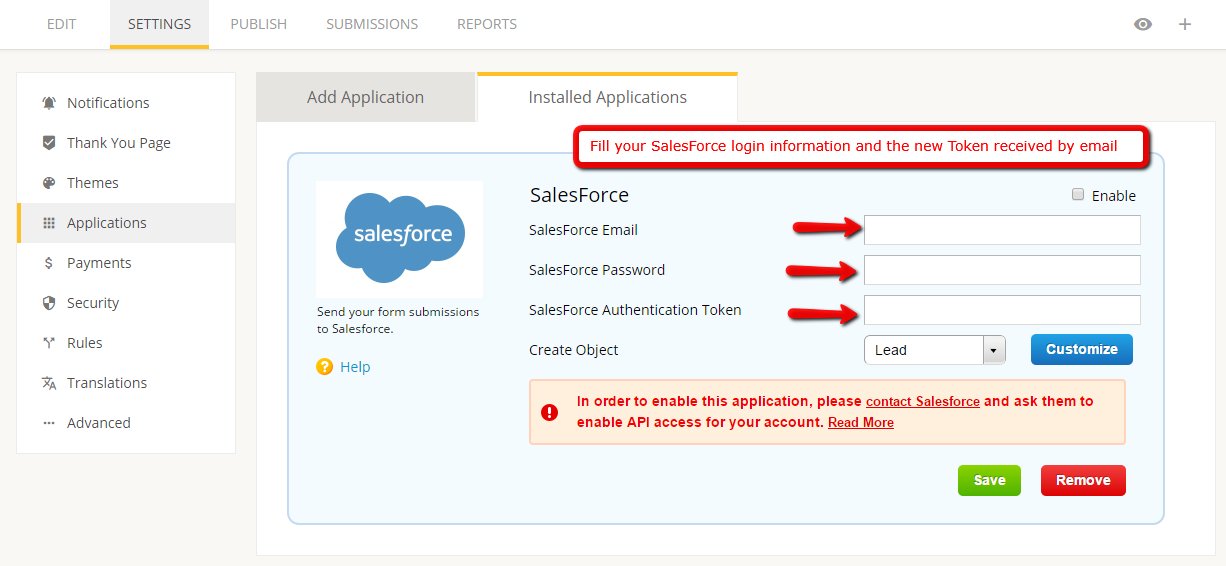 Notice there is a field labeled "Create Object". This lets you choose what type of object you wish to create, such as Lead, Contact, Note and many more. You can further customize the object by clicking on the "Customize" and tweaking the fields show there.
How do I Integrate With: Marketo
Turn your form-collected leads into client segments and start messaging them with our integration. In order to connect Marketo with your forms, like the other examples, you'll need the API.
To retrieve the Client Id and Client Secret, you'll need to create a custom service in your Marketo account. Here's how you do it:
1. In your Marketo account, go to Admin and click on Users & Roles, on the left.
2. Click on the Role tab (on top) and hit New Role.
3. In the Create New Role lightbox, type in a Role Name and go to Permissions (third box below). Check the option Access API and deselect the sub-options below, except Read-Only Lead, Read-Write Activity and Read-Write Lead. Next, press Create.
4. Now go to the tab Users and click on Invite New User. Provide a name and email address of the API only user, select the newly created role and tick the checkbox API Only. In the end, click on Invite.
5. You'll now be required to create a custom application. Go to Admin → LaunchPoint and create a new service.
6. In the lightbox, enter a name and select an API Only user in the dropdown list below. Notice that only users that are API only are displayed. Hit Create to exit the lightbox and go to View Details to retrieve the Client Id and Client Secret needed for your 123FormBuilder – Marketo integration.
7. To find the Rest API, go to Admin → Web Services and you'll find it within the Rest API box. It's the series of characters displayed at End Point and Identity as shown in the example below:

Now just complete the fields in the integration, and voilá ! Data will flow seamlessly into your Marketo account.
How do I Integrate with: Vertical Response
Vertical Response is a great choice for integration if you want to create email campaigns with you collected contacts. Again, we need to find the API. Vertical Response is a bit different from the rest – you need to request the code. You can request it from this link.
After getting your key, fill in the integration below for enabling data directly into the platform.
How do I Integrate With: WebHooks
WebHooks let you move data from one place into your own server using a custom script. In order to create that script, please check this page, which also provides. This will tell the integration where the data should be sent.
With the Customize option you can associate your 123FormBuilder fields with the variables from your script in order to label them as you wish on your server. If you want to know more about WebHooks, please read this article.
We really hope this guide helped you understand how integrations work, and how to integrate your forms with any of the apps. If you're still not sure, don't hesitate to contact our support! They'll be more than happy to assist you.