Stripe Payment Form Generator
Create complex payment forms and integrate them with your Stripe account to process payments online. With 123FormBuilder, it's easy. All you need to do is sign up, create your payment form and use the built-in Stripe integration. No coding, no fuss.
Creating a Stripe order form shouldn't be hard.
And that's where 123FormBuilder comes in! With its drag-and-drop form builder, you'll be able to create your order form in minutes and connect it to your Stripe account without needing any technical skills. Not only that, but you will be able to customize the payment form as you please and apply advance settings that will simplify your selling process.
Payment form features:
Secure forms that encrypt transactions from one end to another
Payment form templates that you can edit on the go
Pricing calculations that you can customize with your own formulas
Multiple products support, so you will be able to sell multiple items on the same payment form
Markups, discounts, and coupon codes that you can add
Recurring billing in Stripe that will activate on form submission
Secure payment transactions in Stripe
123FormBuilder uses Stripe's checkout page to fulfill transactions. Once the customer has submitted an order on your payment form, the information is sent through an encrypted 256-bit SSL connection to the Stripe server. In the meantime, the customer is redirected to your Stripe's checkout page to add the credit card information and other payment details.
Here's a step-by-step guide on how to use the Stripe integration on 123FormBuilder. You don't really need a merchant account on Stripe to start collecting money in your bank account. Can you hear the money? Ka-ching!
A Stripe form builder you can work with
123FormBuilder is filled with features that allows you turn your Stripe payment form in any type of form you need for any type of job. You can register attendees to an event and sell tickets online, run surveys for your research, sign up people to your class through a booking system, and this is just to name a few.
Select from a variety of form fields that you can drag and drop into the layout, from where you will be able to design it in any way you want - even by using your own CSS.
Build the Stripe payment form of your dreams and start selling easily. Use custom email templates that you and your customers will receive after each order has been placed and payments have been completed. With 123FormBuilder, the possibilities are endless. Just sign up to see it yourself.
Form templates that you can connect with Stripe
Select the form template you need for your business. You will find a large variety of templates on 123FormBuilder. Choose the one you like and connect it with Stripe.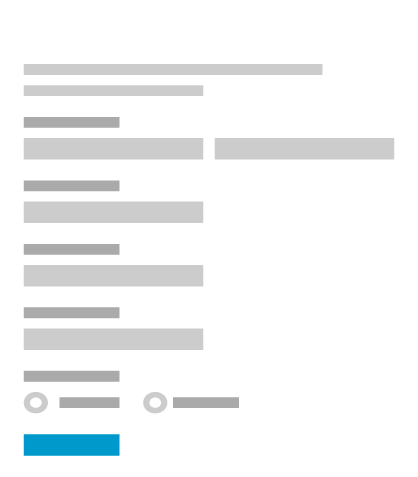 Sign up to 123FormBuilder today and be amazed by the beautiful forms you can build without writing code.
Sign-up takes less than 60 seconds.